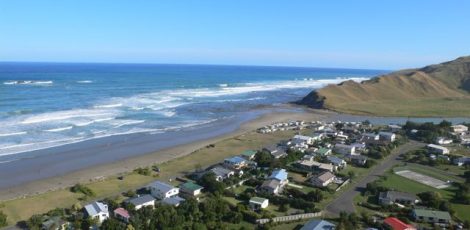 Overview
Suitable for all ages
Kairakau is a beach settlement made up of baches, a tennis court and a holiday camp. There are no shops although an ice cream van visits during the summer. Take your provisions with you as the closest shops are at least 30 minutes away.
Like most Hawke's Bay beaches, the sea at Kairakau can be dangerous with strong undercurrents. But there is an inlet from the Mangakuri river which can be calmer. Children still need to be supervised though as the river is deep and there's an increasing number of people who use speed boats in it for donuts. There is a small jetty which kids love to fish off (eels and small fish).
The beach itself is wide and there are great opportunities for long walks, collecting shells and digging in the sand.
You can also walk up the hill overlooking the whole of the Kairakau area. It's reasonably short but incredibly steep and not always a clearly defined path. The path starts next to the last house on Kairakau Beach Road. Don't try and attempt it in the scorching sun and make sure you have water to drink. It's not suitable for buggies due to the steepness.
Related tags
Central Hawke's Bay
,
Free
,
Havelock North
,
Hawke's Bay
,
Outside
Contact Information
Address: various access points and parking all along Kairakau Beach Road. It's approximately 30 minutes east of Otane and 50 minutes south of Havelock North.