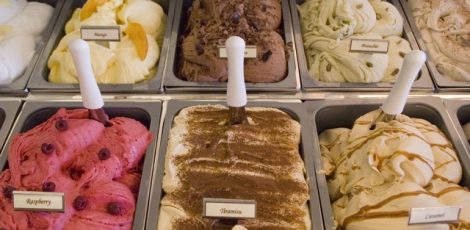 Overview
Suitable for all ages
Many local Wellingtonians consider this to be the best ice cream in the city and with the awards they've won, it's hard to argue otherwise although it's actually gelato (milk rather than cream based) and sorbet that they serve!
With 4 branches around the city centre, there's sure to be a Kaffee Eis nearby for you to enjoy a yummy gelato or dairy free sorbet (all fruit flavours except banana are dairy free sorbets meaning there's a good range to choose from)! The staff are usually happy to give out tasters so you can make your choice with knowledge! They're also very patient if kids take awhile to decide. They serve small cups or cones for kids and a range of cup and cone sizes for adults.
All stores also serve hot and cold drinks. This store only opens in OK to fine weather and on a warm, sunny weekend day, the queue can stretch a long way! There is some seating at a bar styled counter inside and more seats with tables outside. Otherwise, take your cones and cups round the corner to the waterfront or Frank Kitts playground to enjoy.
Look here for Cuba Street store, here for the Courtney Place store and here for the Oriental Bay store.
Related tags
Cafes
,
Wellington
,
Wellington City
Contact Information
Tel: 04 472 9155
Address: Frank Kitts Lagoon, just off Jervois Quay.
Open: Monday – Friday 9.30am – 6pm (weather permitting), Saturday & Sunday 9.30am – 5.30pm (weather permitting)