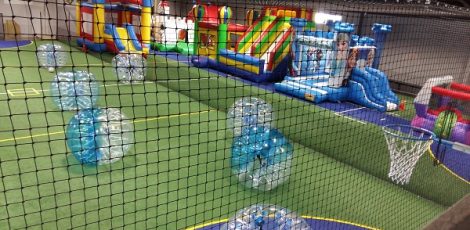 Overview
Suitable for all ages
If you're looking for an energy burning, indoor activity on the Kapiti Coast, this is a great destination. Operating only from Thursday – Sunday (term time) and everyday during the school holidays, there are 2 sections of entertainment; one section is filled with a variety of bouncy castles; the other section has inflated 'bubble balls' (similar to zorb balls) that kids can get into and then roll around to play football or just have fun. Adults are welcome to watch kids from the sidelines, the upstairs gallery area or join in the fun!
Only a small selection of snacks and drinks available for purchase onsite – take your own food and plenty of water, this is hot sweaty work! Food only allowed in the chillout areas.
Top Tip: Make sure everyone has socks so you don't have to buy 'Jump' socks when you're there. No socks = No jumping.
Related tags
Kapiti Coast
,
Paraparaumu
,
Rainy-day
Contact Information
Tel: 021 054 0321
Address: 4 Manchester Street, Paraparaumu. Free car parking.
Open: Term time only open weekends Saturday, Sunday & Public Holidays 10am – 4pm. School Holidays open Friday – Sunday 10am – 4pm. Closed Christmas Day, Boxing Day and New Years' Day.
Price: Adults & babies under 1 year FREE, Kids aged 1 year $7, Kids (2 – 13 years) $12, Multi Kids Pass $30/3 Kids + $10/extra child. Prices include unlimited jumping and use of bubble balls.