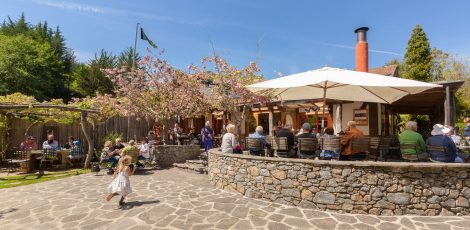 Overview
Suitable for all ages
The cafe and feeding the eels have been recommended lots of times by Facebook followers – it's definitely more than just a cafe with a nice garden although it is both of those things too…
The cafe menu is full of seasonal, healthy, homemade food that has morning and afternoon tea, breakfast and lunch all well covered with tasty treats. There are a few kids' options on the lunch menu to choose from which together with the sides or sharing adult platters should provide enough options even for fussy eaters.
The garden that the cafe is set in, provides covered seating, big board games like chess, interesting things to look at like a wishing well and sculpture, and of course a river with tame eels that kids love feeding and touching. The eels are the native long-finned ones and hang out in the Aporo River from September to May, so unfortunately, if you're there in the winter, you won't see them (although you will have a roaring wood fire to enjoy instead!) During the rest of the year, you can buy eel food from the cafe – but be warned there have been some reports that you need to do this early in the day (before lunchtime), as they can run out on busy days.
It's a good idea to book if you know you're going and you can do that online here.
Please note that Jester House generally closes for a winter holiday. Check the Facebook page here if you're planning a visit in August.
Related tags
Cafes
,
Mapua
,
Outside
,
Tasman
Contact Information
Tel: 03 526 6742
Address: 320 Aporo Road, Tasman. Between Motueka (10km) and Richmond (about 25km). It's also roughly 7km from Mapua.
Open: daily 9am – 4.30pm. Closed all Public Holidays except 2nd January. Closes for the winter too – check the website or Facebook page for exact dates.