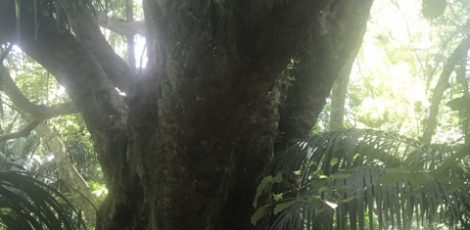 Overview
Suitable for all ages
If you're visiting the Eastern Bay of Plenty in the warmer months, chances are you'll be spending time in or near water but sometimes you need a break from the sand and sea and this domain, 8km from the centre of Opotiki provides a different activity and some shade. In cooler months, this domain gets everyone moving and would be reasonably sheltered from drizzle and wind.
Not all bush tracks are great for kids of all ages and walking abilities but these ones are. For the most part they're wide and flat (there are some stairs which would be annoying if you had a buggy but only on the longest 'red' route). This 4.5 hectare reserve is home to a huge Puriri tree, which is thought to be over 2,000 years old and is sacred to Upokorehe as a place to bury the bones of their ancestors. This burial tree (known as Taketakerau) is a short walk from the entrance, manageable on just a 12 minute loop walk. You can however extend your walk to do one of two longer loops (approximately 15 minutes or 25 minutes). Take a photo of the guide to forest birds on your way in and have kids lookout for and identify what they see along the way. Once you've been to Taketakerau, you'll also start noticing other big Puriri trees and you can keep an eye out for other native trees like the Tawa and Kaikomako.
There are toilets and picnic tables near the entrance but you'll need to come with your own food and water as there are no shops or cafes around. It's worth noting that dogs are not permitted within the reserve.
Related tags
Bay of Plenty
,
Free
,
Opotiki
,
Outside
Contact Information
Address: signposted off Woodlands Road, around 7km down and approximately 8km from the centre of Opotiki.