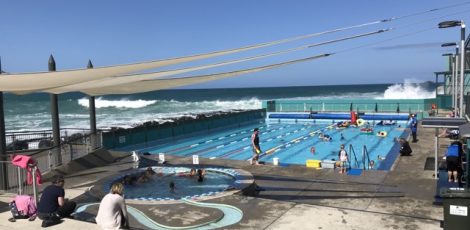 Overview
Suitable for all ages
Dating back to the late 1800s, this outdoor pool opens in October to the end of March each year, and has all the benefits of the sea, (while there is still chlorine in the water, it's weaker than the average pool, as it's mixed in with salt water) but is warmer and doesn't have the waves or rips. There's a toddlers' pool which has shade sails over it and a main pool that has lane swimming and a section for leisure swimming (maximum depth in main pool is 1.4m).
The water is heated to 28 degrees, so warmer than the sea but younger kids might still benefit from wearing a wetsuit if you have one.
There's some seating with tables on the terrace and a cafe operates year round from 9am – 5pm. The terraces have great views over the beach at St Clair.
Make sure that you have sunblock, hats and perhaps rash tops to protect everyone from the sun.
Related tags
Dunedin
,
Otago
,
Outside
,
Pools
Contact Information
Tel: 03 455 6352
Web: https://www.dunedin.govt.nz/community-facilities/swimming-pools/st-clair-pool
Address: The Esplanade, St Clair
Open: daily October – March (generally open early October till end of March but see website for exact dates) Monday – Friday 6am – 7pm. Saturday & Sunday 7am – 7pm.
Price: Adults $6.70, Kids $3 (5 years – end of high school), Toddler Time $4 (1A+1 pre schooler at anytime of day). Family Pass $14.50 (2A+2K or 1A+4K).