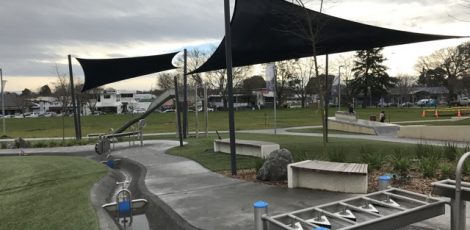 Overview
Suitable for all ages between the playground (younger kids) and skatepark (more appealing to older kids)
Reopened in April 2017 after major renovations, this playground now has a big water course running through it. Great for kids who like water play! They can man wheels to control the flow, change the direction and use the shutters to manage the dams.
Around the water course, there's a mini and bigger slide (the latter is accessed via a climbing frame rather than a regular ladder or steps. There's also a small space net, a roundabout and swings including a bucket swing and pre-schooler swings. There's an interesting metal structure of pipes that kids can try to climb up, monkey style using their feet! Outside the family pavilion there are two metal table tennis tables but BYO bats and balls.
Right next to the playground is a skatepark, great for slightly older kids that might tire of the playground equipment quite quickly. As it's tucked round a corner, a supervising adult wouldn't necessarily be able to see a child at the skatepark from the playground but it is very close to go between the two.
There are toilets near the playground and shops along the street for ice creams, coffee etc.
Related tags
Free
,
Hastings
,
Havelock North
,
Hawke's Bay
,
Outside
,
Playground
Contact Information
Address: The Domain is betweenTe Mata Road, Karanema Drive & Napier Road but the playground equipment is closest to Te Mata Road (after Duart Road) Havelock North. Parking (P120) on Te Mata Road.