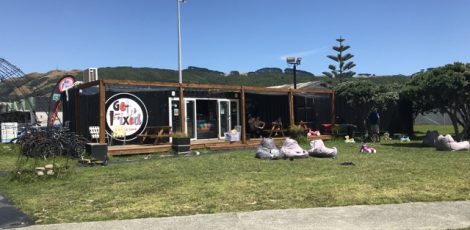 Overview
Suitable for all ages
You don't have to even be interested in bikes to visit this cafe situated on the harbour right in the heart of Porirua city. Although if you are interested in bikes, they have a repair shop, rent bikes out  and can give advice on local bike trails. Rented bikes can come with a seat for babies or a trailer for kids aged around 6 months to 3 or 4 years old (depending on the child's size). They don't rent children's bikes although some of their smaller bikes would be suitable for kids around 11 years +
On a fine day, the seats and toys laid out on the grass are perfect for keeping kids occupied. There's a box of toys that are great for preschoolers and various trikes, bikes and scooters for various ages, although they're mostly quite small. There can also be a volleyball net up.
The cafe specialises in filled bagels (including gluten free ones) but the cabinet also has pastry items like pies, quiches and sausage rolls. There are sweet treats and a range of scoop ice cream. The drinks menu includes Ripe coffee, milkshakes and smoothies.
With seating mostly outside (there are a few chairs inside), this cafe is best enjoyed on a fine day.
Related tags
Cafes
,
Kapiti Coast
,
Outside
,
Porirua
Contact Information
Tel: 04 233 0660
Web: https://www.getfixedbicycles.co.nz
Address: Harbours Edge, 16 Parumoana Street, Porirua. There's parking near the shops on Parumoana Street but make sure you check the signs for restrictions.
Open: Winter (April to November) Wednesday, Thursday, Friday 8.30am to 3.30pm, Saturday & Sunday 9.30am to 3.30pm. Summer (November to March) daily 9.30am  to 4pm weather permitting. Phone or check the Facebook page here to check.