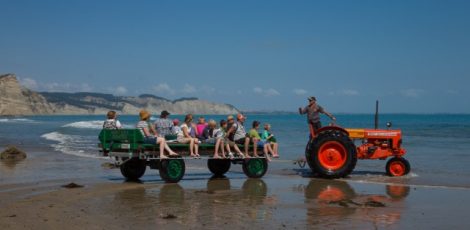 Overview
Suitable for all ages
**Closed until further notice due to landslip. To visit the Gannet Colony, see Gannet Safaris which is still able to operate**
This company takes groups of people along the coast in tractor trailers to see the Gannets that nest at Cape Kidnappers from the end of September (around the September school holidays) to April each year with the chicks starting to hatch in mid-late November.
The trip is dependent on tide times so departure times change daily. Check departure times here for the whole season. You need to book at least 24 hours in advance so they can organise enough tractor drivers. You can get an idea of how busy the trips are from the online booking system here.
They tend not to cancel trips due to the weather and the trailers are not sheltered except for bringing out tarpaulins for rain showers. Go prepared for the weather with rain gear if necessary. Even if it's a really calm, hot day at the departure point, the Cape is exposed and likely to be windy – take extra layers for the ride and be prepared to get sprayed by the sea!
This is a long half day trip for little ones (approximately 4 hours return with a 1.5 hour stop at the gannet colony) with nothing available to buy once you've left the ticket desk. You will need to take plenty of food and water for everyone in your party as well as sunblock, hats and extra layers. There's plenty of room on the trailers for chilly bins etc. There are toilets at the departure point and Cape Kidnappers but none en route.
At times the track becomes unpassable, even by tractors and you'll need to hop off and walk over rocks. Good footwear is advisable. The walk up to the main Gannet colony from the beach is 1.3km. It's steep but well worth it, so come prepared to transport young kids by carrier pack if necessary. The trailer rides can be extremely bumpy and probably not advisable for pregnant women but check with your healthcare provider before you sign up and if in any doubt, phone the day before to see what conditions on the track are like.
The tractor drivers are extremely knowledgeable and stop regularly to share stories and information. They are good at engaging kids and are approachable if you have any concerns regarding safety.
The trip is a big outlay if there are quite a few people in your party but it is well worth it. Not only does a portion of each fare go to DOC to help manage Cape Kidnappers and other areas that they maintain, but it's also a thoroughly enjoyable day out that will leave everyone feeling wind swept, tired but exhilarated!
Related tags
Hastings
,
Havelock North
,
Hawke's Bay
,
Napier
,
Outside
,
Te Awanga
Contact Information
Tel: 06 875 0898
Address: 475 Clifton Road, Clifton. Approximately 20 minutes from Napier, Hastings and Havelock North. Parking all around the departure point.
Open: The end of September, usually tying in with the school holidays until April with daily changing departure times due to the tides. Check here for the current schedule. Departures during the season occur everyday that the tide times allow a return in daylight.
Price: Adults $48.00, Kids (4-15yrs) $26, Kids 3 and under Free. Family Pass (2A+1K) $116. Extra kids $20.