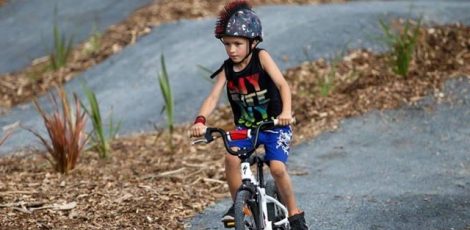 Overview
Suitable for all ages
This is a series of bike tracks and areas to suit different ages and abilities of bike riders (balance bikes, trikes and scooters are all acceptable here as well as regular bikes).
There is an awesome mini-road set up with traffic lights, stop and give way signs. There's a fenced off section for preschoolers to use. Then there's a part with different tracks that allows kids to practise steering, balancing and going up and down hills. Finally there's a dirt track (which says it's for 10+ but you'll know your kids' abilities and confidence as a bike rider).
These are all outside the Avantidrome velodrome which is worth sticking your nose into if there are no events on, as it's pretty impressive.
There's a cafe onsite in the velodrome (The Bikery Cafe) where you can buy meals or snacks. There's a menu (including kids' menu) and cabinet food. You could also pack your own food and definitely take sunblock in the summer months.
The velodrome is about 5km from SH1 so, if you've got bikes with you, it's a possible place to break a journey along that route.
TOP TIP: The bike skills areas get very busy at the weekends, so go early in the day (it's open 24 hours).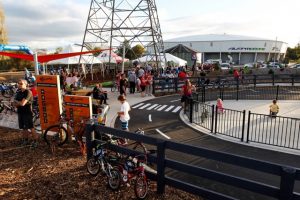 Related tags
Cambridge
,
Free
,
Outside
,
Waikato
Contact Information
Tel: 0800 835 637
Web: http://avantidrome.co.nz/facilities/skills-park
Address: 15 Hanlin Road, Cambridge. Parking onsite but you can also use the Te Awa River Ride to walk or cycle there from the centre of Cambridge (approximately 3km).
Open: daily 24 hours/day! Traffic lights on the mini road operate from 8am – 5pm.