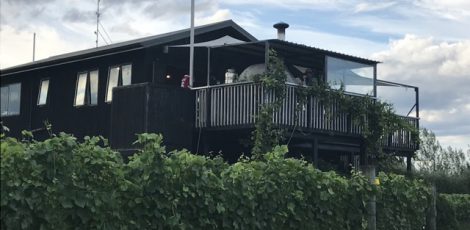 Overview
Suitable for all ages
***Only open during some school holidays. Check the website or Facebook page before you go***
Set high above the vines, this small café specializes in woodfire pizza, made to order and served piping hot on wooden boards. There's a range of around 8 different pizzas with a GF base option as well as the regular base. The only other food served at this café are big bowls of wedges (which come with sour cream and sweet chilli sauce), fish bites and sweet treats. The coffee is about as good as it gets in Kuratau and the wine served is all from the vineyard!
Service can be slow (there's only one pizza oven which can only cook 3 pizzas at once and it gets very busy over sunny weekends during the school holidays) so if you're likely to be hungry go early or at least put in your order as soon as you arrive. Alternatively, try calling with a takeaway order but you'll need to collect. If you're eating in, there's a pletanque pitch laid out and the vines make for a great game of tag while you wait for your food!
Related tags
Cafes
,
Kuratau
,
Taupo
,
Waikato
Contact Information
Tel: 07 386 0806
Web: https://kuratauriverwines.co.nz/cafe/
Address: Floating Rock Winery, 30 Riverpark Drive, Kuratau. Within cycling distance of most of Kuratau or if you drive, there's parking just outside the front gates.
Open: School holidays only in the summer and Easter. Check the Facebook page for opening dates. When open, it's open from 9.30am – 7pm (last orders taken).