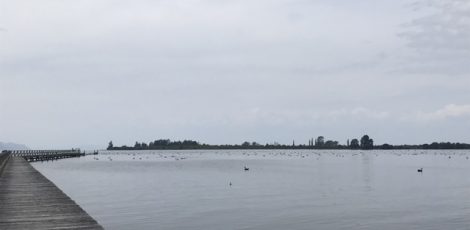 Overview
Suitable for all ages although see below re no barriers
Between Turangi and Kuratau, just off SH41 is a long, old wharf dating back to the 1880s when goods were shipped across Lake Taupo rather than being transported by road. Today the wharf is 260m of walkway out onto Lake Taupo and a very peaceful place to spend a couple of hours. Whereas Taupo is usually known for speed boats and people, from this wharf you're more likely to hear birds and see trout or perhaps a catfish! It's definitely worth bringing a fishing rod if you have one although there's weed about, it's soft and not prone to causing snags. If you don't have a fishing rod, maybe you have some binoculars to hand? See how many different birds you can spot and hear. There is a boat ramp here but it's not that commonly used. The main 'danger' is that there's only a barrier down one side, so little kids will need to be carefully monitored.
Looking back from the end of the wharf, you're likely to get a good view of the mountains towards Tongariro, so it's worth taking your camera!
Related tags
Free
,
Kuratau
,
Outside
,
Turangi
,
Waikato
Contact Information
Address: Wharf Road, Tokaanu. Look out for Wharf Road on the western side of Tokaanu. It's a gravel/dirt track but isn't very long.