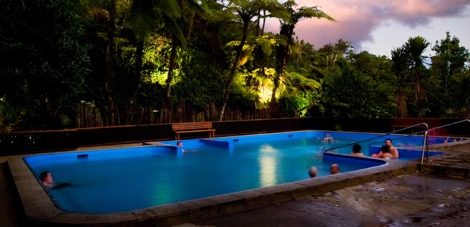 Overview
Suitable for all ages
There are hot pools at The Mount but these pools are recommended as being less busy and therefore a more tranquil and less commercial experience. There is one main outdoor pool that is surrounded by Punga Ferns and is heated to approximately 37/38 degrees. There are also 8 private indoor and outdoor pools of a similar temperature that all have a private shower and toilet. All pools are cleaned daily and not chlorinated.
Within the complex there are BBQs, massage facilities, cabins and camping/caravan sites available. Phone to make private pool or accommodation bookings.
As the pools are just over a kilometre from SH2, they make a good place to break a journey along that highway.
Related tags
Bay of Plenty
,
Outside
,
Pools
,
Rainy-day
,
The Mount/Tauranga
Contact Information
Tel: 07 578 3081
Web: http://www.fernlandspa.co.nz
Address: 250 Cambridge Rd, Tauranga. 1 kilometre from the Cambridge Road Junction on SH2.
Open: daily 8.30am – 10pm.
Price: Main Pool Adults: $13, Kids $5.50, Kids 2 years and under $2, Family Pass $28 (2A+ up to 3K 13 years and under). Private Pools Adult $14, Kids $7.