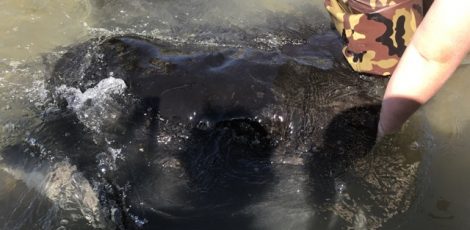 Overview
Suitable for all ages (although see below)
Feeding stingray isn't something that you get to experience everyday! This isn't an aquarium and the stingray that you'll see are free to come and go anywhere they want, so while the guides at Dive Tatapouri have built up a relationship with several stingray, there's no guarantee of what or how many will come for a free meal on the Reef Ecology Tour.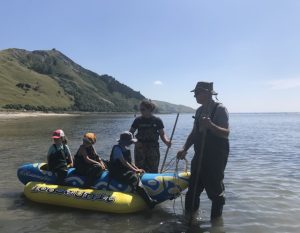 As the times of the feeding sessions are dependent on low tide and to some extent the weather (although as you're in the water, you could still do this activity in light rain), it's really important to phone ahead and book. Once there, you'll be given waders to wear in the water. These are suitable for approximately aged 4+ It doesn't matter how they fit as once you're in the water, the boots suck around your feet. Older/taller kids will be expected to walk with the adults, younger/shorter kids will be picked out of the group to travel by banana boat, pulled along by a couple of parents. Once at the feeding area, the kids from the banana boat are then generally returned to their parents to observe the stingray. It's really important that kids can listen and do what they're told i.e. if a kingfish is visiting, it's really important that fingers are out of the water and that the stingray are touched in a certain way and place to avoid injury to either human or animal. Really young kids can be carried on parents backs in a suitable backpack (take your own) so that they're kept safe but still see what's going on.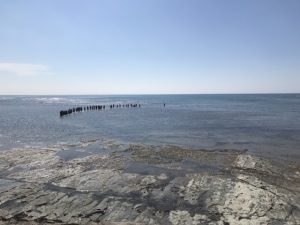 Once in the water, everyone shuffles out in a line to the feeding area. Guides are dotted around to help and point out where there are steps up or down rocks. Everyone then stands in a line and the stingray come in, presumably attracted by the smell of the pieces of fish being held in the water by the guides. Depending on the size of the group there might be 3 or 4 guides in the water, so everyone should have a good view. The guides are well informed and keen to share their knowledge of the stingray so it's an educational experience. After sometime, those that want to are able to both feed and touch the stingray. It's completely optional though so if you don't fancy this, just keep your hands out of the water. The stingray can come up against your wader-covered legs and push to try and get through, it's a strange sensation and for kids can be quite a strong push so it's important that smaller children stand in front of an adult. Other marine life can come along and the guides will try to point out what can be seen like small kahawai or even octopus.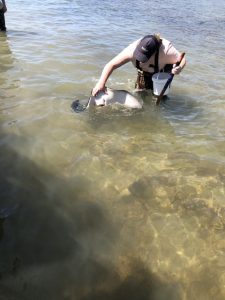 Although the waders should keep everyone dry, if kids bend down to touch the stingray, water can seep in over the top. Sleeves if worn, may also get wet, so it's a good idea to take a change of clothes for kids. It's worth taking your own socks for wearing in the wader boots although they do have some to borrow. The whole trip is about 40 minutes so if you've put on sunscreen and are wearing a hat, have a drink of water before the trip starts and you shouldn't need to take anything out with you apart from a camera (there's a small pocket inside the waders). Also, make sure children have gone to the toilet BEFORE putting their waders on!!
Top tip: you might want to take a kids' life jacket with you for younger kids.
Related tags
Gisborne
,
Outside
,
Rainy-day
,
Tatapouri
Contact Information
Tel: 06 868 5153
Web: http://www.divetatapouri.com
Address: Dive Tatapouri, SH35, 532 Whangara Road, Tatapouri Beach, near Gisborne. The base for Dive Tatapouri is on the left hand side of the turn off (the holiday park is to the right hand side). There's plenty of parking from outside the base, on the road or opposite there's a bigger car park. It's about 15km from the centre of Gisborne.
Open: All year but booking is essential and trips June – September depend on numbers. All trips are dependent on tide times and weather conditions.
Price: Adults $65, Kids (0-15 years) $20, Family Pass (2A+2K) $140 Family Pass (2A+1K) $135.