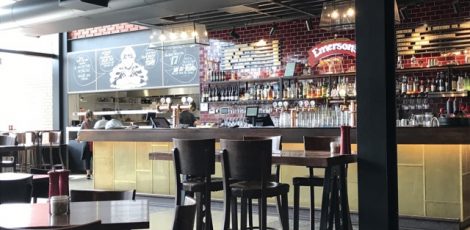 Overview
Suitable for all ages
Emerson's beer has been brewed in Dunedin since 1992, although this site opened in 2016. Home to the brewery, a light and airy restaurant and bar, this family friendly eatery is a great place to come with kids. The restaurant has big windows so you can see into the workings of the brewery – good entertainment while you wait for your food.
The main menu has some typical pub meals like fish and chips and steak but also includes some non-standard twists like the Korean chicken burger. The sharing menu has a range of platters and across both menus, vegetarians and those with intolerances are well catered for. The kids' menu is short and sweet with a kids' lunchbox in amongst the more usual fish and chips / chicken and chips.
There's indoor and outdoor seating and a good mix of booths, regular tables and high bar styled tables and seating.
Related tags
Cafes
,
Dunedin
,
Otago
Contact Information
Tel: 03 477 1812
Web: https://emersons.co.nz/taproom
Address: 70 Anzac Ave, Dunedin. Close enough to walk to from central Dunedin but there's also a big car park.
Open: daily from 10am to late