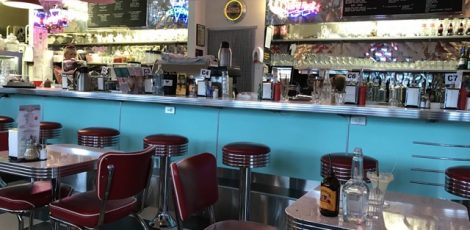 Overview
Suitable for all ages
This is a central eating place that really is very true to a 1950s retro American diner, from the look of it with the big jukebox, to the food on offer. The menus cover breakfast, lunch and dinner and offer lots of choice, including a separate big kids' menu. Both the main and kids' menus feature typical American fare and TexMex options from burgers to nachos but there are also salads and for lunch, sandwiches. There are combos on offer for kids if you're after meals, drinks and ice cream desserts for them. There are lots of Vegetarian and Gluten Free options on the main menu, not too many on the kids' menu. Portions are a good size and depending how hungry your kids are, they might be best sharing or consider taking leftovers home.
It can pay to book, especially at the weekend.

example kids' menu
Related tags
Cafes
,
New Plymouth
,
Taranaki
Contact Information
Tel: 06 757 5300
Address: 36 Leach Street, New Plymouth. There is some free parking in the forecourt. Note that Leach Street is oneway going from East to West!
Open: Tuesday, Wednesday, Thursday 10am – 9pm. Friday 10am – 10pm, Saturday 9am – 10pm and Sunday 9am – 9pm. Closed Mondays.