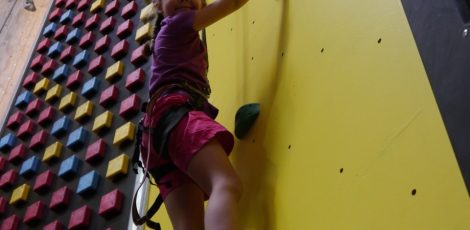 Overview
Suitable for a minimum age of 3 years (but see below).
10 different climbs and a free hanging ladder that kids love are available in this indoor climbing space. The unique clip in automatic belaying system operates which is great for kids as it gently lowers the climber down when they let go.
There is also a 'sports' climbing wall at this venue which is suitable for very keen school aged, rock climbing kids but they'll need to bring an adult with to belay them.
The lower age limit is 3 years for rock climbing but you do need a certain level of upper body strength to pull yourself up the walls and each child will be different in terms of what they can achieve. Younger kids might struggle to get very far up but can still have fun.
Related tags
Otago
,
Rainy-day
,
Wanaka
Contact Information
Tel: 03 443 1110
Web: http://www.basecampwanaka.co.nz/clip-n-climb/
Address: 50 Cardrona Valley Road, Wanaka
Open: Climbing sessions last for an hour and start every hour, on the hour. Booking is essential.
Term time, open daily weekdays: First climbing session starts at 12pm – last entry 7pm. Term time Saturday & Sunday 10am – last entry 5pm. School & Public Holidays 10am – 8pm.
Price: (1 hour climbing, harness and safety briefing) 3 & 4 years $10, 5 – 9 years $13, 10 – 17 years $16, 18 years+ $20. Adults supervising but not climbing are FREE. Check here for discounted entrance with Bookme.