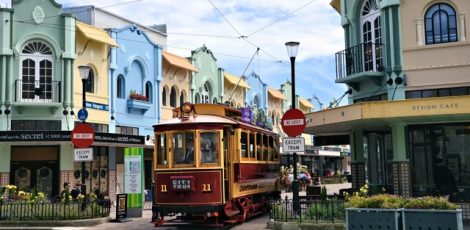 Overview
Suitable for all ages
The tram is a great way for little legs to see the central areas without getting too tired. Good for everyone if it's raining as the 17 stops take in many of the central tourist sites along the route. The driver gives a running commentary and actively involves the kids onboard during the journey. It's a great way to see the devastation left by the earthquakes as well as admire some of the new building work that's going on.
Check out the route map here.
You might want to tie in a tram ride if you're going to the Imagination Station, The City Art Gallery, the Discovery Room @ the Canterbury Museum or C1 Espresso Cafe
Related tags
Canterbury
,
Christchurch
,
Outside
,
Rainy-day
Contact Information
Web: http://welcomeaboard.co.nz/christchurch-tram/
Address: 17 stops all around the central city area. See the website for a route map of where the tram stops.
Open: daily. Summer 9am – 6pm (September – March) and Winter 10am – 5pm (April – August) with trams running every 15-20 minutes.
Prices: Adults $25 – allows up to 3 children to travel for free (up to 15yrs). You can hop on and off all day. Various combination tickets can be bought at the website to include trips to the Gondola and punting as well. Have a look here to see if Bookme has a discount for adult fares available for when you want to go. If you know in advance that you're going, you can save $2 by booking 2 days (or more) in advance. Additional children $5 each.