Overview
Suitable for all ages
This is a great place to come for a day out from Timaru and the surrounding South Canterbury area. There used to be a quarry here but tracks through it are well maintained. Whether you're wanting a gentle family stroll, or to take the kids mountain biking, this park has something for everyone.
A gentle stroll that would be suitable for buggies might be around the man made lake to feed the ducks, enjoy a picnic (there are 2 free BBQs) and stopping at the playground equipment that dot the area.
Other more strenuous walking and cycling tracks include the 3.5km walkway following the old rail track from Gleniti Road to the Bowker Gate on Otipua Rd. A detailed example of this route is available on the Timaru Council website here. Some more information about mountain biking in this park is available here including an example ride.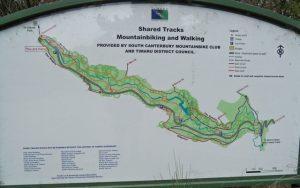 Check out this map of the area which shows the road passing through the reserve, parking spots along it and walking/cycle tracks (best viewed on a phone so you can enlarge it). There's been a lot of planting so lots of shaded areas and great spots for picnics, especially around the lake.
Related tags
Canterbury
,
Free
,
Outside
,
Timaru
Contact Information
Address: There are lots of access points to this park including Quarry Road which goes right through it and has parking spots at various points. Other walking access points include Barnes Street and Kowhai Street, which are closest to the lake.
Open: if you're driving to the park, it's worth noting that the gates open at 6am daily and are locked at dusk. Check here for seasonal gate closing times. Pedestrians can access the park at all times.