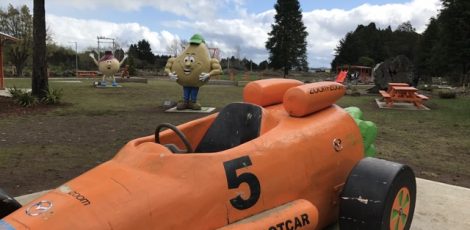 Overview
Suitable for all ages
The orange carrot is an icon of Ohakune and right next to the enlarged model at the entrance to the village, is a carrot (and other vegetable) themed playground! The equipment is more suited to kids up to around the age of 6 years with a seesaw, swings (1 bucket, 1 regular and 1 preschooler swing), small slides and orange car all featuring. There are giant models of a turnip, potato etc within the playground and boards detailing the history of the Ohakune area.
There are concrete paths within the playground and these link up with the riverside walk that goes along the back of Ohakune, coming out near the I-Site in the centre of the town – perfect for buggies, bikes and scooters. This is a good way of reaching the playground if you're coming from/going to the centre as it's away from the main road.
For older kids with wheels, there's also a bike park at the back of the playground, away from the road, that allows them to practice their skills on jumps and curves. It's not a pump track and is a bit rough in places so probably best suited to kids that are fairly confident 'off road'.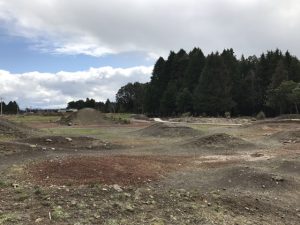 Related tags
Free
,
Manawatu-Whanganui
,
Ohakune
,
Outside
,
Playground
Contact Information
Address: Rangataua Road (SH49), Ohakune. Look out for the big orange carrot and 'Welcome to Ohakune' sign. There's off street parking just before the bridge on the left, if you're coming from Waiouru direction.