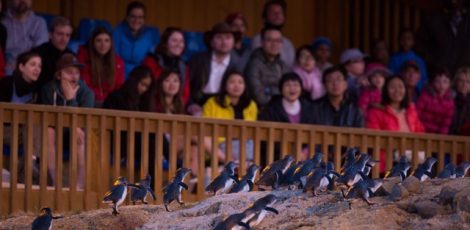 Overview
Suitable for all ages (although see notes on keeping quiet!)
Blue Penguins come ashore to their nests every evening at dusk (check what time the sun is setting here). Dress warmly and head down to the viewing stands to watch this spectacle, which can last from 60 – 90 minutes. There is commentary during the viewing. Cameras aren't allowed. It's worth noting that when the penguins arrive, kids (and adults!) will need to be able to sit down and keep voices to whispering, so that the penguins aren't disturbed.
If your little ones won't be awake for an evening viewing of the penguins, you can also do a guided or self-guided tour during the day, when you can see into nesting boxes. If there are some penguins that haven't gone out to sea, you will see them. For prices and more info on day tours, see the website here.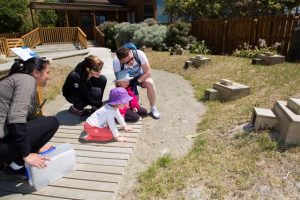 Being wild, seeing penguins is never guaranteed and the typical number of visiting penguins depends on the time of year. Numbers are at their height in November & December (up to 200 penguins) but there may only be around 30 during the winter months.
Related tags
Oamaru
,
Otago
,
Outside
Contact Information
Tel: 03 433 1195
Web: https://www.penguins.co.nz
Address: 2 Waterfront Road, Oamaru.
Open: daily. Day tours are possible from 10am. Evening viewings are from just before dusk (approx 9pm in summer but as early as 5pm in winter – phone to check times).
Booking is advisable at anytime of year and necessary in the summer months when it can be very busy. Book online or by phone.
Prices: for evening standard viewing: Adults $30, Kids $15, Family pass $75. Free for under 5yrs.
Prices: for evening premium viewing (2 – 5 metres from the penguins route to the nesting boxes) Adults $45, Kids $22, Family Pass $113. Free for under 5yrs.