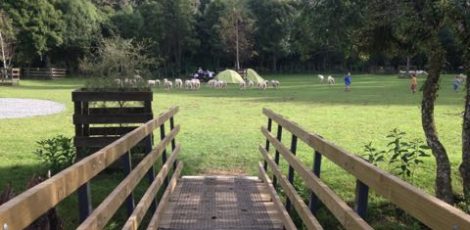 Overview
Suitable for all ages
Steeped in history, this area is named because it holds the battle ground, that you can walk up to, of the last recorded battle between Maori and colonial forces in this region in 1846.
Lots of options of things to do at Battle Hill Farm from camping to fire building to mountain biking to tramping. Plan your day and take the necessary provisions as there aren't any shops close by!
Take some firewood, matches and sausages/marshmallows and you can start a fire on any of the fire pads in the front paddock without a permit. You can feed the eels (take food) in the river just past the Rangers cottage and there's a rope swing at the end of the field over the river in the pine trees. Take togs for swimming/paddling in the river. Play on the old tractor, look in the old shearing shed.
Picnic areas, toilets, car parking all available. Walking (from 15 minutes to 4 hours), horse trekking and mountain biking are also options (BYO horses/bicycles!) Some tracks are for walking only while others are shared between all 3 activities.
Camping available in designated camping area. Booking with the ranger is essential.
It's worth noting that certain areas are closed from August to October for lambing – check with the ranger or on the website before you make plans to visit.
TOP TIP: It's worth taking sandfly repellent as they're rife even on windy days!
Related tags
Free
,
Kapiti Coast
,
Outside
,
Porirua
Contact Information
Tel: Ranger: 04 237 5511
Web: http://www.gw.govt.nz/battlehill/
Address: 610 Paekakariki Hill Road, Pauatahanui, Porirua
Open: daily 8am – dusk. If you plan to visit August – October, it's worth checking the website for closures due to lambing. As it's a working farm, much of the park is closed during lambing season although the main tracks stay open. The website should tell you which parts are open and which are shut.
Camping charges are: Adults $6, Kids $3 booked through the ranger.
No dogs allowed in the whole area (including being left in cars) as this is a working farm.