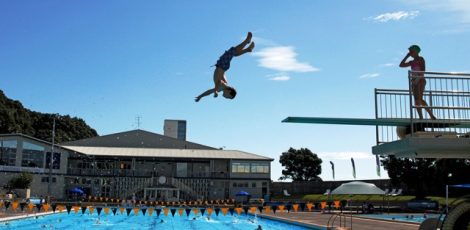 Overview
Suitable for all ages
This is made up of year round indoor pools and outdoor pools which open in the summer months.
The indoor complex includes a main pool with lane swimming and wave pool, a tarzan rope and inflatable toys. This pool is 28 degrees. There's a separate toddler pool with a bubbles feature and slide. This pool is set to 32 degrees and has a maximum depth of 0.3-0.5m. There are also 2 indoor hydroslides. See rules and prices under contacts.
The outside pool is open from the end of October to the end of April and has the following features: a 50m main pool, a learners' pool, a tots pool and a diving pool. There is some shade over the toddlers' pool and also over the outside seating area. There's a small playground and an enclosed trampoline and bouncy castle on the grass in the summer too.
There is child minding and a cafe both onsite. See website or phone the pool to ask about childminding.
Check out the Facebook page here for special events like Pool Parties for older kids and Family Fun Days.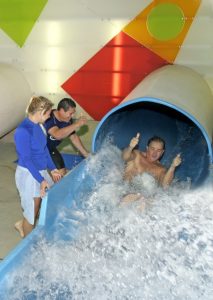 Related tags
New Plymouth
,
Outside
,
Pools
,
Rainy-day
,
Taranaki
Contact Information
Tel: 06 759 6060
Web: http://www.newplymouthnz.com/Residents/Attractions-and-Recreation/Pools/Todd-Energy-Aquatic-Centre
Address: 8 Tisch Ave, New Plymouth
Open: Pools Monday – Friday 6am – 8.15pm. Weekends and Public Holidays 7am – 6.45pm.
Hydroslide operates Weekends, School & Public Holidays 11am – 6pm only.
Price: Adults $5.50, Kids (5 years+) $3.50, Adult + up to 2 preschoolers $3.50, Adult + 1 Kid under 8 years old $3.50.
Hydroslide is an additional $4 for all day use. Note the operating times above. Hydroslide rules are: Turbo slide: Users must be over 8 years AND 120cm minimum and weigh less than 105kg. Family slide: For use by kids 5 years and over BUT kids aged 5-8 years must ride with a caregiver over the age of 16. Caregivers ride for free.