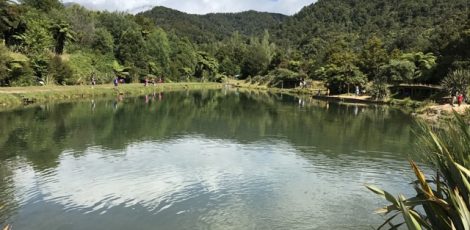 Overview
Suitable for all ages (although see below)
For kids that like fishing or for those wanting to try for the first time, coming to a lake that's stocked with farmed salmon just waiting to be caught isn't such a bad idea – but be warned, there's no guarantee that you'll actually catch one!
You can't use your own tackle but fishing rods, chilly bins and nets are given out free of charge. You might want to buy some bait but it is also possible to catch a salmon without bait. Find yourself a spot around the lake and cast! There are staff members on hand to give you advice but it's also about just giving it a go.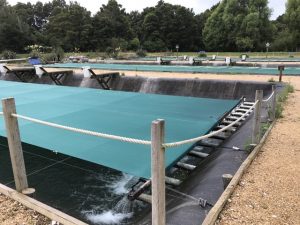 You might want to look around the farm pools before you give the fishing a try or if you need a break from fishing. There are information boards about each pool with the rough size and quantity of the fish in each. There's also a cafe where you can eat your catch or buy some if you haven't been lucky!
For very young preschoolers, the fishing might not hold their attention for long but there's a playground next to the cafe and you can also wander next door to the separate cafe, petting zoo and feeding the eels place owned by the same people.
Although outside, this activity can be enjoyed in the rain if you're prepared with raincoats and gumboots. There are a couple of shelters around the lake that you could fish from and there's the bonus that the rain keeps the sandflies away!
It's been said that if you do catch a fish, it can taste better if you ask for it to be smoked to get rid of a possible muddy flavour. There is an extra charge for this (see below).
Related tags
Free
,
Golden Bay
,
Outside
,
Rainy-day
,
Takaka
,
Tasman
Contact Information
Tel: 03 525 7251
Web: http://www.anatokisalmon.co.nz
Address: 230 McCallum Rd, Takaka. It's about a 10 minute drive from the centre of Takaka.
Open: daily. Summer 9am – 4.30pm and Winter 10am – 4pm. Closed Christmas Day and open from 1pm on ANZAC Day (25th April).
Price: This activity is free IF you don't catch anything!! Use of fishing gear is free but if you do catch a fish, you MUST reel it in and pay for it. Prices are determined by weight of your catch, based on $26/kg. In January when the fish are at their largest, you could catch a 2.5kg salmon but more typically they're around 1 – 1.5kg. These prices include cleaning of the fish. Preparation as sashimi for a whole fish is an extra $8 or smoking is $10 and done while you wait.