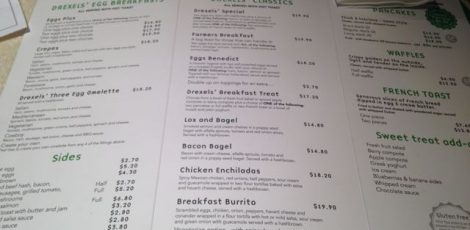 Overview
Suitable for all ages
An American styled diner serving American and Tex Mex breakfasts all day (there's also a lunch menu that kicks in at 11am but it's the breakfasts that this place is famous for). The kids' menu is usually a hit with options like pancakes and waffles served with syrup and cream being popular! There are less sugary meals too like more traditional cooked breakfasts served with hash browns. The kids' menu is similar to the adults' with smaller portions. But the adults' menu also has less heavy meals on offer too like the omelette (3 eggs) and bagel and smoked salmon.
Staff are very welcoming and friendly towards kids, sometimes they are high-fived and they're always given colouring in. Booth seats accommodate larger family groups easily. For those that like filter coffee, the traditional American 'bottomless cup' is a feature here. For those not keen on the weaker-than-NZ taste of American filter coffee, they do an OK flat white as well!
This is a popular place so it can be worth booking or going early (you'll often have to wait for a table by 9.30am on a Saturday if not earlier). On the plus side, they open early, so if you've got early risers it's a great place to go! Just make sure that everyone is really hungry as the portions are a decent size.
Related tags
Cafes
,
Wellington
,
Wellington City
Contact Information
Tel: 04 499 5242
Web: http://www.americanos.co.nz
Address: Downstairs in the Dunbar Sloane building, 32 Waring Taylor Street, Wellington. Paid street parking all around. 2 hours free at the weekend.
Open: daily. Monday – Friday 6.30am – 2pm. Saturday & Sunday 8am – 2pm. Breakfast menu all day, lunch menu 11am – 2pm.