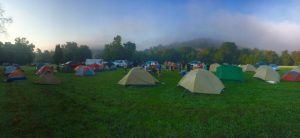 Whether you're a seasoned camping family or just thinking about your first trip, there might be some tricks and tips below to help you prepare. Thank you to the Facebook community for sharing their ideas!
Top Tips:
Consider going with another family for part or all of your trip. This means you can share supplies and chores like meal prep.
If you've got room and have bikes, take them, at least for the kids to be able to get around the campground easily.
Have some wet weather activities stored out of sight somewhere so you can bring them out if and when the weather packs in. Having a rainy day, off campground activity up your sleeve will also help (cinema, bowling alley, swimming pool, museum). Look here for ideas specific to your area.
Your first camping trip with a tent could just be in the back garden so you can test the waters! Otherwise try a cabin on a campground. Once you're ready to go under canvas, borrow another family's gear so you can try before you buy. The big items like a tent, beds, sleeping bags are essential but expensive. If you're driving to a campground the following will make your stay more comfortable; folding table, chairs, a gazebo and an extra tent for older kids but again add to the price.
What to take
: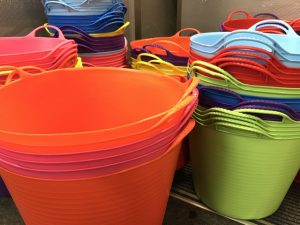 Obviously what you take will depend on how much space you have and what's available where you're going. For big items, see above but for more day-to-day stuff think about the following:
merino layers for evenings and night time, gumboots, silver survival blankets to lie between the ground and the tent to help insulate
flexi-tubs (see picture) – used for multiple things e.g. bathing/washing up, carrying dirty dishes to the kitchen, storage
pots and pans, plastic plates, bowls & cups, knives, forks & spoons (including a covered sharp knife)
a grater, can opener, chopping board, teatowel, small container of washing up liquid & scrubbing brush
named tupperware with lid for keeping food in shared kitchen fridge
water container that the kids can operate for getting their own drinks
rubbish bags – useful for keeping things dry as well as for putting rubbish in!
pegs & rope and/or clothes horse (especially good for drying beach towels)
insect repellent & citronella candles
hand sanitiser and plenty of wet wipes
toilet paper and solar shower (if no or limited facilities)
jandles for using shared bathroom
washing powder and coins to operate machine (if needed)
coins for showers (if needed)
cash for buying ice and ice blocks (if you're within civilisation)
a mallet
puncture repair kit if you're taking airbeds
first aid kit (including plasters, antiseptic wipes or cream, panadol/pamol, tweezers, scissors, bandages, gauze)
torches for everyone + spare batteries (think about having head torches to be hands-free)
a solar powered light for inside the tent
solar fairy lights for use outside tent to show where guy ropes are. Just make sure they're not flashing ones!
small sweeping brush and dustpan for keeping the tent floor clean
earplugs, eye mask, pillows and any teddies etc required for sleeping
a wet weather activity box with some surprise toys/games/puzzles in it could include cards, sticker/colouring books, reading books, board games
Extras for little kids/babies
baby carrier / backpack
extra layers of clothing and bedding for nighttime
a snooze shade cloth for putting over the portacot
extra tent pegs if you have chairs that can be pinned down (camping chairs tend to be very light weight and easily pulled over by crawling/toddling kids).
You might also want to consider…
small portable BBQ, gas bottle and utensils. Campgrounds often have them but might charge for use and it's more convenient to have one on your own site
a potty or camping toilet for bad weather or fear of going outside the tent during the night
a battery operated monitor for when the kids are in bed but noise around the campground might stop you from hearing them
once you start assembling camping gear, think about storing it in containers that are ready to load into the car overtime you go away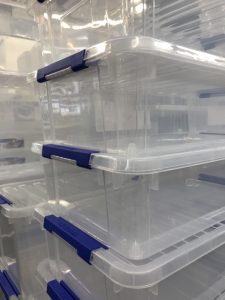 Remember:
for younger kids try to keep to bedtime routines that you have at home but don't stress too much if they're going to sleep later than usual and waking up earlier than usual. If you're there for awhile, sleeping patterns will adjust
have a meal plan of ideas before you leave and take all non-perishable foods with you. Weigh out ingredients where necessary e.g. dry ingredients for breakfast pancakes and keep in a snaplock bag. Have meals that require fresh meat and veg early in your time away. Freezing meat/fish will mean it keeps for a little longer. You can also ask a butcher to vacuum pack meat.