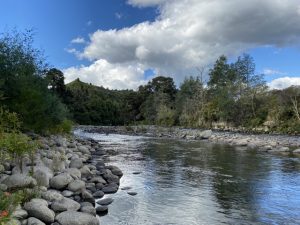 We'd only camped at holiday parks or on friends' lawns before and with the promise of a river filled with trout just ready for catching, we decided to give this domain a try.
What we liked:
We could build a fire and toast marshmallows in a designated fire pit.
The river, while very cold, was beautiful and had great fishing and lovely swimming holes with rocks to jump off.
Unlike some freedom camping spots, there were two flush toilets!
There's lots to do in the surrounding area in the summer months especially if you like going for walks and/or cycling.
As it was after Christmas and New Year, we had the pick of the camping spots and could take up as much room as we wanted (this wouldn't be the case late December and early January).
Campgrounds can be expensive, especially if there's a large group of you and you're paying per person. The fact that this is by donation only, is a bit of a bonus and makes it accessible to more people.
No mobile phone reception or WiFi – some might struggle with this but for us it was a definite plus point!
Things to be aware of:
Raetihi is the closest town for amenities (Four Square, cafe) and it's a windy 20-25 minute drive. Ohakune which has more options including a New World and I-Site is a further 10 minutes or so.
You can still get noisy neighbours in a freedom campground and in fact there are no rules governing this and no one to complain to if there's still music and loud voices in the middle of the night!
If your kids like the attractions often on offer at paid campgrounds, they might be miffed at the lack of 'facilities' here – no playground, no sports facilities, it's very much make your own fun and meet other kids down at the river.
The tap water needs to be boiled before you use it – think about taking a huge container with fresh water in it and refilling at the tap behind the Ohakune iSite.
If you're used to facilities like showers, hot water, a kitchen or lounge area, you'll be disappointed. Freedom camping takes a bit more planning but can be great for everyone to get back to basics!
Top Tips:
Take bikes as the campground is quite spread out.
Grab an online fishing licence before you go if you plan to take rods.
Have some wet weather activities up your sleeve, whether it's things to do in Ohakune and surrounding area or a bag of boardgames etc.
There is little info about this campground online but check out the links on this website here.