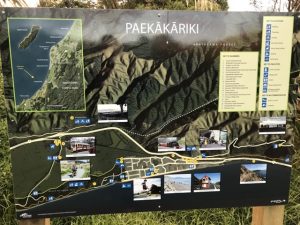 With fine weather forecast for an early Easter, and the camping gear having not seen the light of day all summer, we decided to check out the Paekakariki Holiday Ground for 2 nights over the long weekend. This is what we thought:
What we liked:
For us it was close to home – around 30 minutes in the car, so no need to rush to get there to set up our gear or sit in traffic for hours. It made our time away feel a lot longer.
No need to book, even though it was a holiday weekend, so we could keep an eye on the weather forecast and make a last minute decision to go. We called to check a few days before and were assured that we'd be fine and we were – it was busy but not full.
With a stream full of eels, a small playground, 2 trampolines, an inflatable pillow and lots of open grass for playing cricket and other ball games, it was a child's paradise. The facilities were wonderfully basic compared to some camping grounds while also perfectly adequate.
Having older kids (the youngest was 6) the kids could go off and entertain themselves when we were at the camping ground. They hopped on their bikes and we didn't see them again unless they were hungry!
The facilities were clean with free to use BBQs near the kitchen, a hot water zip, microwave, plenty of communal fridges and toasters in the kitchen. There were a few covered picnic tables as well for when the weather was a little cooler.
There was plenty to do without needing to use a car. Being on the edge of Queen Elizabeth Park, this camping ground is minutes away from walking and cycling tracks. It's a similar distance to the beach and the playground and skatepark at Campbell Park. For poor weather activities there's an arthouse cinema in Paekakariki as well as a bigger, commercial cinema in Paraparaumu, tenpin bowling and a swimming pool (about a 15 minute drive away).
There's no street lighting around the holiday park, so no annoying brightness shining into your tent but also, the most amazing view of stars on a clear night. The sunsets from the beach were also wonderful.
What wasn't so perfect:
The early morning goods trains and constant rumble of traffic on SH1 could be heard even with earplugs in!
With the stream snaking it's way through the whole campground, it wouldn't be so great for letting younger kids roam free.
Top Tips:
Take bikes for everyone. The kids will use theirs around the camping ground, everyone can use them on the tracks through Queen Elizabeth Park.
If you have kids that are old enough to free roam, opt for a camping spot away from the playground and inflatable pillow so you have less noise from other campers.
If you're there with other families, it's a good idea to have a gazebo between you as there's no indoor space to get away from the weather (either the sun or rain/wind) other than the kitchen!
General Info:
Paekakariki Holiday Park can be found at the end of Wellington Road, just through the gates of Queen Elizabeth Park. Contact number 04 292 8292
There are powered and unpowered tent sites, sites for caravans and camper vans as well as cabins.