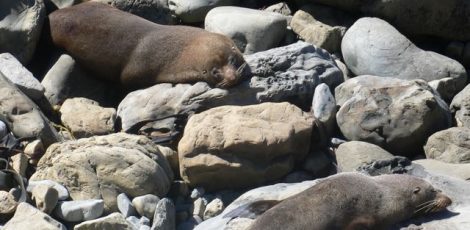 Overview
Suitable for walkers that can manage a 6km return flat walk over rocky, uneven path or turn back sooner
The South Coast of Wellington is a wonderful place to enjoy the rugged landscape of NZ – just so long as there isn't a southerly blowing! Check the general weather forecast and especially the wind direction here. If it's looking good, head out to Owhiro Bay and follow the dead end road to the Te Kopahou Visitor Centre making sure that you've got a good supply of snacks (or a picnic lunch), water, sun hats and sun block with you as there are no shops where you're going!
Make sure everyone visits the toilet at the visitors' centre before you head out. The track leading to Red Rocks and the seal colony is a 4WD road – open to the public Monday – Saturday if you're driving and open to walkers and mountain bikers everyday of the week (so Sundays are the best days for walkers as there are no cars around….). The return journey is quite far for little legs (about 2km oneway to Red Rocks and a further kilometre to the seal colony) so you might want to consider taking a backpack carrier with you if you think younger members of your party might be too tired for the return journey.
As you walk, look out for dolphins, ferries and driftwood! Talk about why the rocks suddenly turn red, imagine owning one of the old baches that you'll pass along the track….
The fur seals are only supposed to be at Sinclair Heads from May – October and it's certainly true that there are more there during the colder months BUT you can see seals there year round – they can just be hard to spot as they're so camouflaged against the rocks. If you're clambering over the rocks for a better view of the seals, make sure you keep kids close by as you wouldn't want them to suddenly come across a seal lurking behind a rock!
You can of course just not mention the seals and see how far you can get, turning back if your kids can't manage the whole walk. It's still a very enjoyable place to walk, especially without the passing traffic on a Sunday and there are lots of opportunities for paddling and exploring among the rock pools.
Take extra layers in case the weather changes – it's a very exposed coastline the further round you get.
Related tags
Free
,
Outside
,
Wellington
,
Wellington City