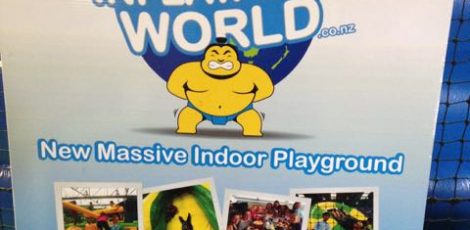 Overview
Suitable for all ages
This chain of indoor inflatable playgrounds are a great place to release excess energy when the weather isn't great outside. They generally operate in big indoor sports arenas. Equipment can change but there are usually big inflatable slides, bungees, climbing areas with big jumps from he top and inflatable obstacle courses. There's a special area for preschoolers.
While there is some hot and cold food and drinks available onsite, you can also take your own to eat outside of the play area. There's seating and tables provided.
Kids can get very hot jumping so it's advisable to wear layers that can be removed and take plenty of drinking water. You need to have socks to play – take some with you to avoid having to buy theirs!
Children under 12 must be accompanied by an adult who stays onsite while their kids are playing.
Related tags
Hawke's Bay
,
Napier
,
Rainy-day
Contact Information
Tel: 06 834 0053
Web: http://www.inflatableworld.co.nz/napier
Address: 72 Thames Street Pandora, Napier.
Open: Saturday & Sunday 10am – 4pm. In the school holidays open daily 10am – 4pm
Price: 0-12 months Free. 4 years and under $6. Kids under 5+1 Adult $12. Kids 5yrs+ (including adults playing) $12.