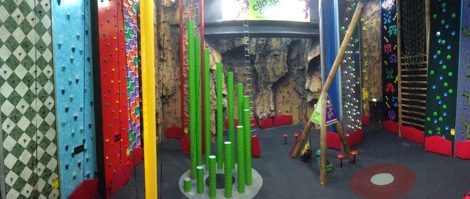 Overview
Suitable for all ages, although see below for young kids
With 34 different climbs available in this indoor climbing space, there's plenty of variety. The unique clip-in automatic belaying system, means the climber is gently lowered down when they let go, which is great for first time or inexperienced climbers.
While there is no lower age restriction for rock climbing, you do need a certain level of upper body strength to pull yourself up the walls. Preschoolers might struggle to get very far up but those aged 2 and up can still have fun (generally kids under 2 don't get much out of it). Kids under 13 years need to be actively supervised at all times.
2 other attractions that might appeal to fearless kids are the Vertical Drop Slide and Leap of Faith although it's worth noting that these cost extra and need to be paid for separately from the admission price.
Take water with you as this can be thirsty work! You can also take food but have to eat it outside of the climbing wall area.
Related tags
Auckland
,
Auckland City
,
Rainy-day
Contact Information
Tel: 09 630 6040
Web: http://www.clipnclimb-auckland.co.nz
Address: Capitol Cinema Building, 610 Dominion Road, Mount Eden / Balmoral, Auckland
Booking is strongly recommended and can be done online through the website or by phone. Climbing sessions are for 1 hour, starting on the hour every hour.
Open: Term Time Tuesday – Friday 12pm – 8pm, Saturday and Sunday 10am – 6pm (closed Monday). School Holidays daily opening 10am – 6pm. Check the Facebook page here for Public Holiday opening.
Price: Includes climbing for one hour and harness hire. Kids (2-6 years) $12, Bigger Kids (7-74 years) $18.
Vertical drop slide $2, Leap of faith $4, Combo (Leap and Slide) $5 per go.